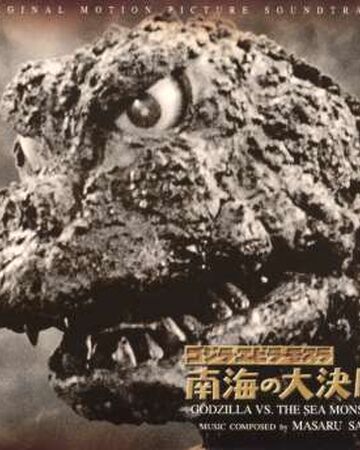 Composed by: Masaru Satoh
Godzilla vs. the Sea Monster is odd in that it was originally supposed to be a King Kong vehicle. Rankin-Bass, which was planning a King Kong cartoon, decided they wanted something different to promote their upcoming work (resulting in King Kong Escapes), and Godzilla was quickly inserted into the big ape's place. This is why Godzilla's foes seem underwhelming in terms of power levels and also why he gets a sudden fixation on an island beauty (thankfully this oddball moment is contained to one scene). The plot concerns a group of friends searching for a lost brother. They end up on an island where an expy of Communist China is using slave labor to manufacture heavy water as well as a yellow substance that keeps the giant shrimp Ebirah away. It's a fun film that's definitely less ambitious than its predecessors.
Masaru Satoh returned for his second film. His material is widely different from his score for Godzilla Raids Again. It's more jazzy, exotic, and upbeat, fitting the tone of an island romp. The music is thus more entertaining, though bereft of outstanding tunes that stick in your head. The strongest thematic addition is "Mothra Song." This piece graces the main title after some island percussion. It thereafter gets turned into another fairy song for the giant butterfly. It's not as powerful as her more well-known songs, but it's pretty nice. On the subject of Mothra there is a neat short cue towards the end called "Arrival of Mothra" with a sparkling heroic rhythm.
The music in general would fit a 60s spy show with all the percussion and some very jazzy moments. Ebirah's theme is basically a guitar riff that is only slightly sinister. "Endurance Dance Rally" is a groovy source cue that could fit in the Adam West Batman show. In addition to the themes there are some pleasant travel and island cues. Standouts include "Transportation by Yahlen II" and "Departure of Boat to Lech Island," the latter another instrumental of "Mothra Song." Ironically one of the weakest aspects is Godzilla's material. There is sinister motif that appears in "Sleeping Godzilla" and another rolling motif introduced in "Rebirth of Godzilla." Oddly his fight with the villains' planes is literally scored like a beach party. Satoh just does not convey the presence and majesty required for the character.
Godzilla vs. the Sea Monster is a very different score. Given the nature of the film, it's not wrong for Satoh to have ditched the more ponderous and sinister tone of Ifukube's work. However, he might have gone too far. There is some good music here, but outside of "Mothra Song" it lacks a strong thematic base. Satoh himself may have realized this judging by how his next two scores went.
Rating: 4/10
Tracklisting
Main Title
Young Go Go
Appearance Of Yoshimura
Transportation By Yaren I
Transportation By Yaren II
Yacht And Hurricane And Monster
Lech Island
Red Bamboo
Fierce Ebirah
No Way To Survive
Wish Of Dayo I
Mothra Song
Sleeping Godzilla
Infiltration Of The Enemy Base I
Infiltration Of The Enemy Base II
Escape
Fly Away Balloon – Southern Sea Horizon
Wish Of Dayo II
Mothra Song II
Crisis In The Pasture
Sleeping Godzilla
Godzilla's Wakening
Departure Of Boat To Lech Island
Rebirth Of Godzilla
Godzilla vs. Ebirah
Red Bamboo Base
Retreat from Base
Godzilla vs. Big Condor
The Demolition Of Red Bamboo Base
Godzilla vs. Ebirah II
Godzilla vs. Ebirah III
The Wish Of The People On Infant Island
Mothra's Song
Godzilla vs. Ebirah IV
The Arrival Of Mothra
Before Nuclear Explosion
Ending